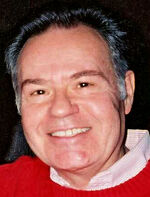 Deem Reginald Bristow was born April 11, 1947 in Eaton, Ohio. An actor and voice-over artist, his most well-known role was that of Doctor Eggman in the famous Sonic the Hedgehog video games. He collapsed Sunday, Jan. 15, 2005 at a singles dance and died shortly after (aged 57) at Sharp hospital in San Diego.
Bristow voiced Dr. Eggman in: Sonic Adventure, Sonic Shuffle, Sonic Adventure 2 and Sonic Heroes.
While his approach was more deep-voiced than Otsuka (His "Mwahahaha!" compared to Otsuka's "Ohohohoho!"), his take on Eggman was unique. By far, Bristow is arguably the most popular of Eggman's voice actors. Unfortunately, Bristow died January 15, 2005. It's sad that we'll no longer be able to hear his excellent work, and the community will really miss him.
External Links
Edit